Sea Kayaking
---
"Believe me, my young friend, there is nothing - absolutely nothing - half so much worth doing as simply messing about in boats." Ratty to Mole - "The Wind in the Willows" by Kenneth Grahame
If this looks like fun, we class you as an intermediate:-
Dawn Paddle: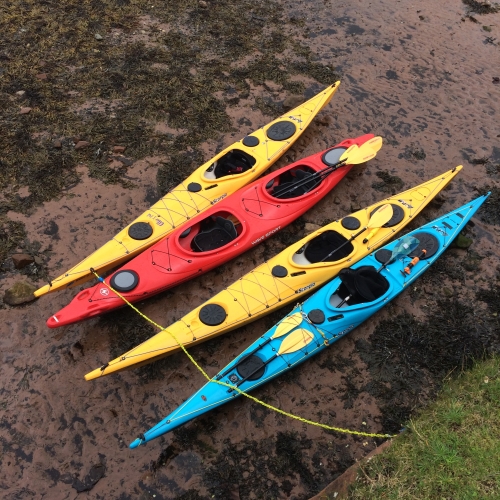 It's hard to beat a day exploring Arran's coast by sea kayak. You get to look at the island from a new angle. We frequently see seals, otters, dolphin and porpoise, and occasionally basking sharks. We can guarantee a plethora of sea birds, too, including likely close encounters with gannets, terns, Eider ducks, guillemots, cormorants and waders.


The Boats
At Otter's Tail we have a fleet of Scorpio sea kayaks in various sizes. These are great all-rounder, versatile sea kayaks, suitable for both beginners and advanced sea paddlers. They allow for good speed without compromising on stability. To enable younger children and less confident paddlers to join in we also have four Horizon Blackout tandem kayaks.
Our Base
We are fortunate to be based at Lamlash pier, the perfect location for launching.
Half Days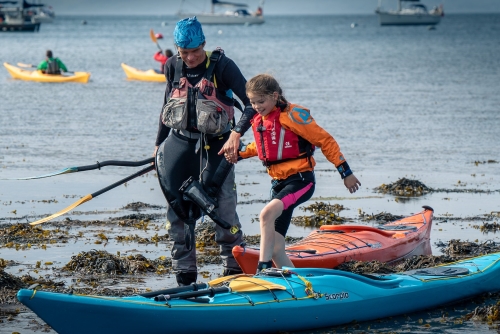 Most of our half day sessions take place here in the bay. Whenever possible we make the two kilometre crossing to the Holy Isle. Under 18s must be accompanied by a parent or guardian. To keep everyone moving happily forwards together, children between 8 and 12 years are usually asked to go in tandem boats with an adult. (If you have very experienced children by all means contact us to discuss).
Full Days
If you choose a whole day trip, the possibilities are endless. A popular option is to kayak to Holy Isle and spend a few hours climbing to the top of the 324m summit and exploring the island before kayaking on and round, and home. Alternatively, the option of a one-way journey can be offered anywhere on Arran. The weather will dictate what journeys are best on any given day, but a typical day trip for us is from Kildonan to Lamlash or Lamlash to Corrie. Children need to be 12 to undertake a full day paddle.
Kayak Sailing
Are you an intermediate paddler looking for more challenge? More speed? More excitement? Kayak sailing is for you if you do, and Otter's Tail are one of only a few providers currently able to take you.
The sails are very effective downwind, enabling us to cover a larger distance - usually a one-way journey on the water, with a shuttle back to base.
We prefer to offer kayak sailing for a whole day, and due to the extra equipment and smaller group sizes, it does cost a little bit more. Feel free to
contact us
for more details.
Beginner or intermediate and beyond?
When you
contact us
we will ask about your kayaking experience. We can cater for everyone from total beginners upwards, but it's best to keep people with similar experience and expectations together.
If you have been kayaking a few times, you are happy to wear a spray deck, you are comfortable in winds of up to Force 3 and you are up for a challenge then we would class you as an intermediate paddler. Let us know your experience at the time of booking and we can put you in with a similar level of paddler.
Private Bookings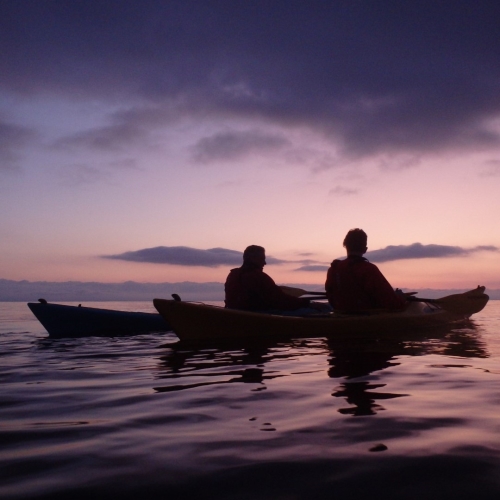 There are a few reasons you might want a private booking. You might prefer to paddle with solely your own party. Because it is essential that we keep groups together, and because we like to make sure that groups are well matched we prefer to take smaller children in groups of their own family and friends. It's also good value this way.
Please see our
bookings
page for prices, and our
calendar
page for availability. If you'd like to make a booking, please
contact us
.
Have a great day out before everyone else gets up in the morning
"The finest hour that I have seen
Is the one that comes between
The edge of night and the break of day
It's when the darkness rolls away"
'Across the Great Divide' by Kate Wolf
We absolutely love to get up really early and paddle into the dawn. We often have our best wildlife encounters in the calm and quiet before the rest of the world gets on the go. It's a lovely feeling to come home for breakfast knowing that you have got your day off to an amazing start.
We can also offer the opportunity to kayak in the dark to Holy Isle and then climb up to the summit for the dawn. You'll get back to Lamlash for breakfast having already had the best day of your holiday.
We are also up for grabbing the last of the light and paddling at dusk. These are magical and memorable paddles.
Circumnavigate Arran by Sea Kayak
We can take you right round Arran by sea kayak if you choose our 5-day circumnavigation option. The week begins with a practice day going over rescue skills and gaining familiarity with the boat, then we spend four days paddling right round the Island. Depending on the weather this may also entail a visit to Carradale on the Kintyre Peninsular. As part of the 5-day course those with the required skill level can also achieve their Sea Kayak Award.
("Operation Marigold" video by kind permission of Dom Moorhouse)
Sea Kayak Award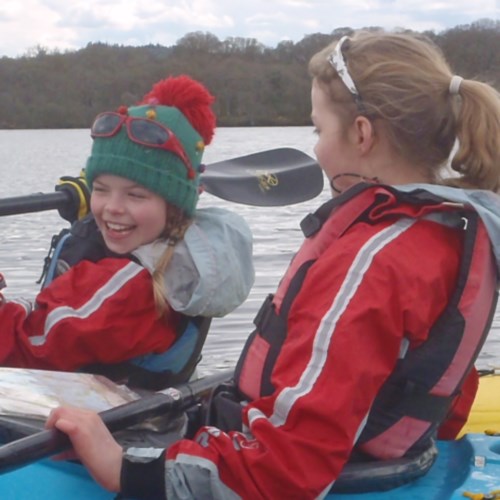 Fancy gaining a personal proficiency award in sea kayaking? We run 2 and 3 day Sea Kayak Award courses, making use of the best Arran has to offer. You'll journey around Pladda, Holy Isle or the Cock of Arran and enjoy theory sessions in the evening. We will cover all aspects of the course. You can find the
syllabus
here.
It is possible to complete the syllabus in two days, but we recommend the third day as it gives you more time to consolidate. With this in mind we offer the third day and 2nd evening session for only £50.
Visit Ailsa Craig by Sea Kayak
The ultimate trip is the two-day journey to Ailsa Craig. This fascinating island is 21 kms and a very committing paddle away! This voyage is obviously only possible in the right weather conditions. If the weather rules out the crossing to Ailsa Craig we will make alternative plans to explore more sheltered pasts of the Clyde Coast. We really need to know that you are up to this trip! You need to be at least the standard of the old 3 star award - or the new sea kayak award and have paddled with us before. Feel free to
contact us
.
We can also offer bespoke trips
If you have a particular trip in mind, just
get in touch
. You might fancy the 'five ferries' by kayak - a five day trip from Arran around the North end of Bute and back to Arran. We can either paddle all the crossings or make use of the ferries where the weather is not suitable.
Whatever trip you have in mind, let us know - once you are on the water, the world is your oyster.