Hillwalking
Arran's hills may be comparatively small, but don't let that deceive you. They are some of the best jaggedy wee hills in Scotland, with classic ridges joining them together, letting you explore the Island from up high.

Otter's Tail specialises in these more scrambly walks that you might have always wanted to try but weren't quite sure about tackling. Our favourites are outlined here but remember we can run bespoke trips anywhere on the Island. If you've a different day in mind, just let us know.


Beyond Goatfell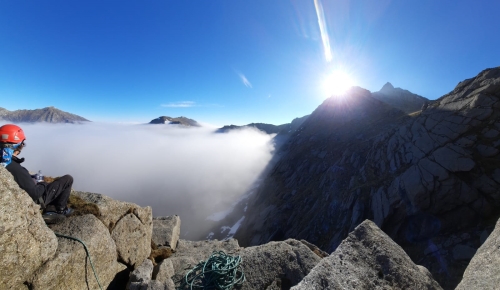 While Goatfell is the highest peak on the Island, it is also the most accessible. There are many ways up, but our favourite is this one - starting out by climbing Cioch na-h Oighe. This is a cracking wee mountain, rocky on all sides, and makes a forbidding guardian of the entrance to Glen Sannox. The trickiest bit of scrambling is quite low down. After that you can relax and enjoy the ladder to the roof of the Island.
After the summit of Cioch na-h Oighe the ridge continues over North Goatfell and onto Goatfell itself by way of Stachach ridge. It's a sky ride of awesome outlook and heady heights.
We'll drop down from Goatfell on the east ridge and then down to Corrie. It's an entirely different way to experience Goatfell.
The Witch's Step
The famous gap in the east ridge of Caisteal Abhail is very obvious and calls to you from the Boguille road. We like to climb from North Glen Sannox, up onto the friendly ridge of Suidhe Fhearghas, and then continue west to tackle Cuem na Cailleach - the Witch's Step. All I can say is that if the Witch stepped over it in one go, she had very long legs!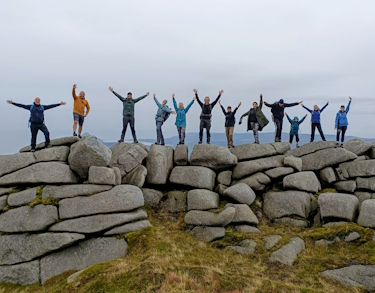 There's quality scrambling all the way to the summit of Caisteal Abhail. From there l lovely option is to follow the curving northward ridge to Sail an Im, bringing us back to North Glen Sannox, a full circle of Coire nan Ceum. Horseshoe ridges like this one are very satisfying - allowing most of the day to be spend up high and no long stomp back to your starting point.
The Three Beinns
The three Beinns - Beinn a Chliabhain, Beinn Tarsuinn and Beinn Nuis - make a classic horseshoe ridge walk. You'll start in dramatic Glen Rosa but at the Blue Pools you'll turn west and follow the Garh Allt up into Coire a Bhradain. Then you have 3 kms of beautiful and varied scrambling and ridges to carry you right round the corrie, taking in all three peaks in one long airy ride. Guaranteed to put a smile on your face.
Cir Mhor
Cir Mhor is the hub of the north Arran hills. It's the iconic one at the head of Glen Rosa, (and Glen Sannox) that towers over you when you swim in the Blue Pool.
A cracking day is to climb Cir Mhor from Glen Rosa, and then have the option to drop down the steep long slide to The Saddle, and then tackle North Goatfell on the other side.
Cir Mhor is a right proper hill, with steep cliffs, excellent climbing and an exposed, blocky summit. Climb it and you'll be right at the heart of the north Arran hills.
The Western hills
These grand hills are often overlooked, but they are well worth a visit. The ridge stretches 5 kms from Beinn Bharrain at its southern end above Imacher to Meall Donn and Meall Biorach - the hills above Coire Fhionn Lochan - at its northern end, only dropping below 600m once! That's a quality, airy day. You'll get a totally different angle on the Island from this side.
Have a look at our
calendar
and
booking
pages to see about availability and prices.
Holy Isle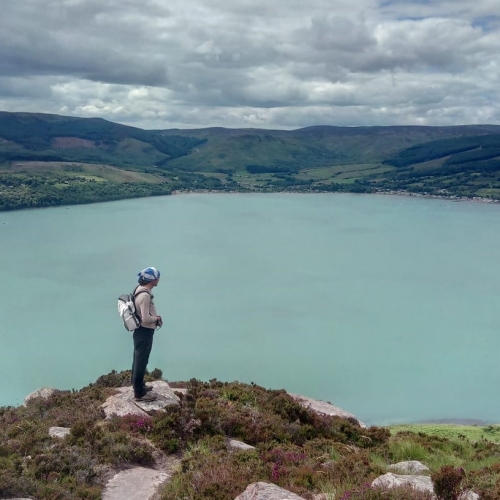 Holy Isle is a very special place. It has a unique atmosphere. It's no surprise to anyone who's visited it that it has attracted a Christian monk and a Buddist community to live there over the years. There have been many other interesting vistors, too, from Vikings to Soay sheep, Eriskay ponies and wild goats, and some of them are still here. Come and visit and see what it means to you.
We can take you across by kayak, and paddle right round before landing and climbing to the summit. Mullach Mor is only 314m high but it packs a punch far above its weight in terms of views and scenery.
Holy Isle has bird and wildlife in abundance. This is a very popular day out that we don't think you'll ever forget.
A little bit about Arran's cracking wee hills
The northern hills of Arran are the result of a large 'batholith' - a volcanic bubble of magma that never erupted but formed a huge granite dome as it cooled. Subsequent glaciation has carved beautiful valleys into the rock, leaving grippy, solid peaks connected by high arêtes. These make for delightfully scrambly high-ways, and a series of classic ridge walks where you can join several peaks together in one awesome day of adventure.
Four of the Arran hills qualify as Corbetts - Scottish peaks over 2500 feet, but less than 3000 feet. (Being a hill over 3000 feet in Scotland makes you a Munro. Arran doesn't have any Munros, but we think Corbetts are better anyway).
"Any hillwalker who, with somewhat blinkered vision, concentrates his or her efforts on the Munros will be in danger of missing many of the best of Scottish mountains." (Scottish Mountaineering Club)
Kit to bring
Otters Tail have a limited supply of kit which we will lend free of charge. Please let us know in advance of any kit requirements and we will advise on the availability. For hillwalking we meet at
Arran Active
in Brodick where our clients can enjoy a 10% discount on the day.
If you are leaving your car in Brodick please use an alternative car park, please let us know if you require assistance with transport. We will then make our way to the hill of choice, if a shuttle has to be organised it will be done at the start of the day.
Everybody needs:-
sturdy footwear
good quality socks
rucksack
waterproof jacket & trousers
at least one litre of water
full arm and leg covering (please avoid cotton clothing)
hat & gloves
snacks
lunch
spare jumper
personal medication
sunscreen