Gorge Walking
---
"An over-indulgence of anything, even something as pure as water, can intoxicate." - Criss Jami
Come on in, the water's lovely!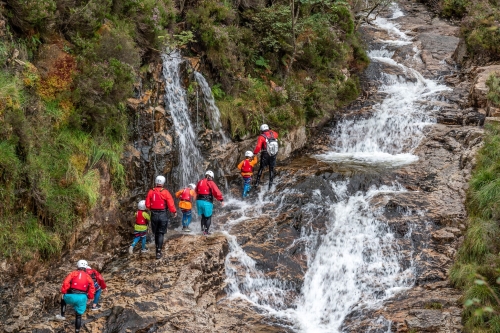 Gorge walking is just immensely fun. We fit you with a full wetsuit, a helmet and a buoyancy aid, and then we all scramble up the river together, challenging ourselves along the way where we come across natural water slides, waterfalls and plunge pools.
The best gorge walking on Arran is in the North Glen Sannox Water. The stream bed is solid granite, which makes a relatively grippy scramble and lovely clear water. As you make your way up the pools and falls you also get to enjoy the spectacular scenery: The North Glen Sannox Water drains the corrie below the Witch's Step.
This a great activity for groups of families and friends as you help each other through the gorge.
Gorge walking is open to all who have a reasonable level of fitness and are aged 8 and over. If you can manage a full flight of stairs easily without bannisters you should be able to give the gorge a bash. While this activity can be quite challenging, there is always the option to get out of the water and walk around an obstacle by going on the path that runs the length of the gorge. There are also several vantage points along this path for any members of your group who would like to watch.
Gorge walking is a full immersion activity and is best saved for the warmer months. We recommend this activity from April to October, but please speak to us if you wish to go out of season. If you're game, so are we.
Meeting times for Gorge sessions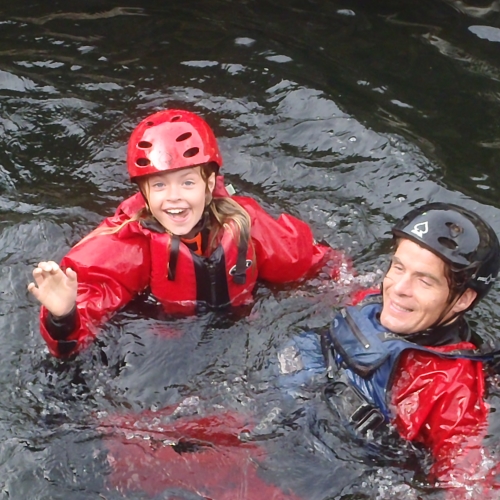 We normally meet at 1.30 for afternoon sessions, morning sessions may be available by arrangement. We will kit you up and you can change in the warm. All you have to provide is footwear that you don't mind getting wet, thick socks and swimwear and/or thermals to wear under our wetsuit, and a towel.
We will get changed in the changing facilities here and make our way in our wetsuits to North Glen Sannox.
Please let us know at the time of booking if you require assistance with transport to Sannox.
The session time, including changing times, is about 3 hours. At the end of the gorge walk we will provide Dry Robes to get changed back into your own clothes.
Booking a Gorge walk
To book please
contact us
. You can have a look at our
calendar
to see if we have availability that suits you.
We look forward to meeting you at the pier.